Network storage - Almond+ 2014
From SecuriWiki
SMB/CIFS and FTP
The Almond+ has a pair of USB 3.0 ports and they can be used for attaching storage devices to the Almond+. Both USB 3.0 and USB 2.0 devices can be used and if you need more than two, a powered USB 3.0 hub can also be used. You'll get the best performance from USB 3.0 devices and USB 3.0 RAID enclosure can be used if you need a lot of space.
Currently the Almond+ only supports FAT32 and NTFS formatted drives, as well as ext3 if you're a Linux user.
The Almond+ supports two network storage protocols, SMB/CIFS and FTP. SMB/CIFS is using a Linux files server known as Samba and in this section we'll explain how to enable the Samba and FTP servers on the Almond+ so you can access the storage device(s) you have connected.
There will be a common section describing how to get to the corresponding parts in the web UI of the Almond+ and then separate sections describing how to configure things for the two different servers and what client requirements there are.
Common steps
To access a USB drive connected to the Almond+ you have to set a few things up in the web admin UI of your Almond+. This is done by accessing the IP address of your router in a web browser.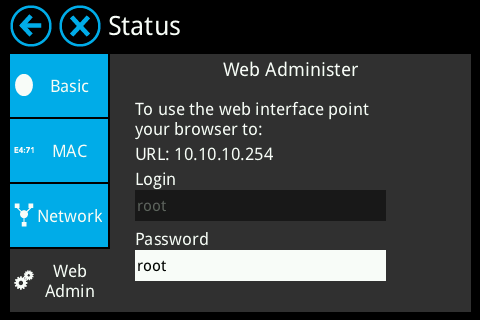 You can find the IP address of your Almond+ by tapping on Status in the LCD UI and then Web Admin. This will not only display the IP address of your Almond+, but also the login credentials.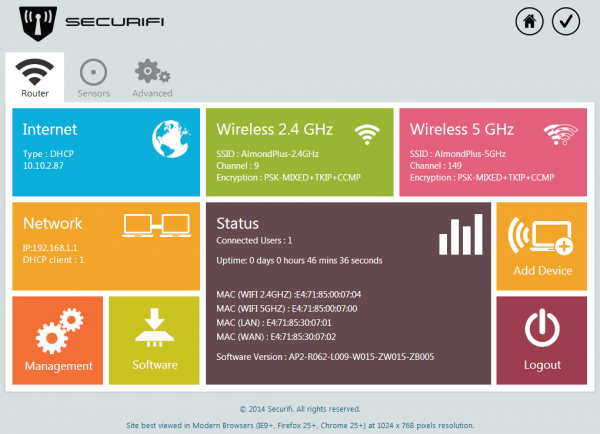 Once you've successfully logged in to the web UI of your Almond+ you need to click on the Advanced tab.